In order to make them more organized and accessible, I'm moving my resources page to a series of blog posts. Here I start with local to Boston food resources, including financially accessible options. High quality, local, wild and accessible food is the foundation of so much, and I want to keep spreading knowledge of resources to folks in my community. Here goes.
This Map of the "urban commons" in Somerville/Cambridge with public food sources. Mulberries and more!
Find a farmer's market in your neighborhood.
How to use EBT/SNAP at local farmers markets.
The Neighborhood Farm in Needham has been known to have pay-what-you-can boxes available for their fresh produce at farmers markets in JP and Roslindale.
The Daily Table is a not-for-profit grocery store in Dorchester which serves fresh produce and ready-made healthy food. They seem to be opening a new location in Roxbury, as well.
Buckle Farm is where I source most of my and fresh produce year-round. He farms pork, too!
While the World Health Organization states that the ideal rate for necessary cesarian births should be around 10-15% (with more recent studies showing that rates above 10% do not decrease mortality rates for parents or for babies), the US Office of Disease Prevention and Health Promotion (Department of Health and Human Services) sets our goal at 23.9%. Since this goal was set (as 10% lower than the average in 2007), approximately 60% of hospitals in the United States do not yet meet this goal.
Another doula and I were chatting about experiences at a local hospital where a client of mine awaited a planned cesarian for a suspected big baby. This doula mentioned that the birth site we were discussing was on the top of a list of local hospitals who perform medically unnecessary cesarian sections. She shared with me the consumer report on cesarian rates for low-risk babies. The report does not include cesarian statistics from anyone who has a prior cesarian, is carrying more than one baby, or who has a baby in anything but a head-down position. This data also doesn't include anyone with a chronic health condition, heart problems, high blood pressure or obesity. Truly, this is a thorough compilation of comparative unnecessary cesarian rates, state-by-state.
Some takeaways about Boston-area birth sites:
The lowest cesarian section rates come from:
Cambridge Health Alliance (which includes Cambridge Birth Center and Cambridge Hospital)
Mount Auburn (don't think any Boston-area birth worker is surprised about this)
Massachusetts General Hospital
The worse-than-average cesarian section rates come from:
Tufts Medical Center
St. Elizabeth's
Newton-Wellesley Hospital
Brigham and Women's Hospital
Boston Medical Center
The highest cesarian section rates come from:
South Shore Hospital
Brockton Hospital
Melrose Wakefield Hospital (Hallmark Medical System)
Just something else to consider when choosing where to give birth around Boston!
Herbstalk 2016 was last weekend in Somerville, MA. The group of Saturday teachers gathered outside the Armory (it was rainy on Sunday), and I participated in my first ever "group jump" photo.
More on the class I taught:
With our culture's strong focus on birth control and avoiding pregnancy, many people are left in the dark when they actually WANT to become pregnant! With the trend toward older ages for first-time parents (especially around Boston), many are wondering how to prepare their bodies best for parenthood. Why does it seem like everybody has babies so easily while others struggle for years, considering invasive fertility treatments? What does it even feel like to ovulate?
Come learn how to lay the groundwork for healthy fertility cycles, nourish your gametes and give yourself the best chance to have a healthy baby with the help of medicinal herbs and foods. This class is taught from the perspective of a birth doula who has years of experience helping parents (of many ages) have babies around Boston, MA.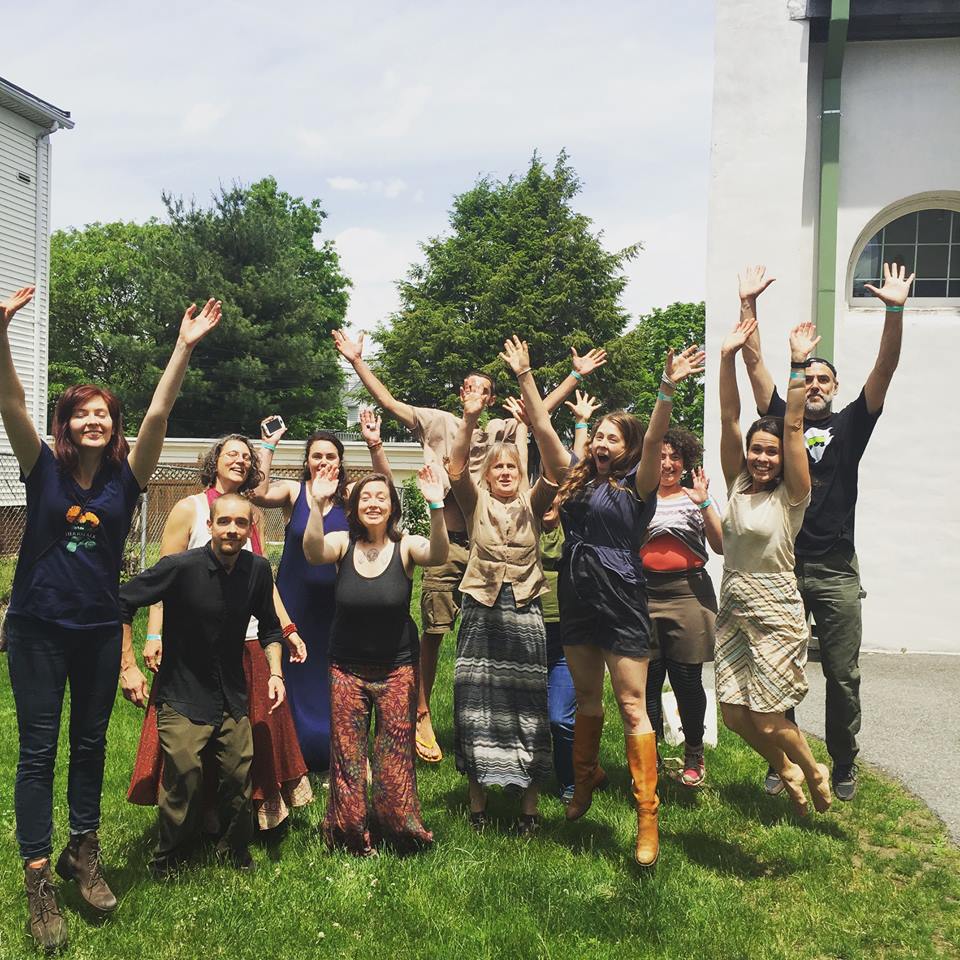 Marshmallow Fluff. A New England "staple" food. Many folks in the northeast have some kind of nostalgia for the goopy, white substance. It was, after all, created in Somerville, MA. We love it enough to have an annual "What the Fluff?" festival in Union Square. Originator Archibald Query had been selling his mallowy creation door-to-door until World War 1, when shortages caused him to cut back. Two fellows, Durkee and Mower, originally from Swampscott, bought the recipe for $500 and eventually became the largest distributors of marshmallow cream in New England. Right out of Lynn, Lynn, city o' sin…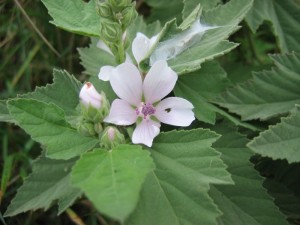 It is said that in 1950, when their new factory was built, the switch was made from granular sugar in 100 pound bags to liquid sugar stored in 5500 gallon stainless steal tanks. I'm not clear if this is the beginning of the use of corn syrup in Fluff. However, with the US government subsidies of corn, high tax on foreign sugar sources and over-bearing sweetness of the syrup eventually made it the favorite additive of American food creators.
Currently, Fluff is made from four ingredients: corn syrup, sugar syrup, dried egg whites and vanillin. The average American eats 60 pounds of corn syrup each year. While debate swells over the safety of GMO corn, studies have shown that mammals fed diets of Monsanto's corn have increased instances of kidney and liver damage. Two things stand out to me about these studies. One, the rats were not only fed GMO corn in various quantities, but also drank water containing similar levels of pesticide runoff as Americans regularly consume. Two, the effects were worse in female rats. Science (and Monsanto) has a history of ignoring health disparities by sex, with studies focused on results in male bodies
On to the good news:
Folks at my herb school are very excited about Apotheker's, Jamaica Plain-based chocolatiers who use no corn, soy, dairy, gluten or even refined SUGAR in their sweets. Yes, I found out at Herbstalk this year that Apotheker's is now making marshmallows. The ingredients as follows: organic honey, kosher grass-fed beef gelatin, organic marshmallow root powder, organic almond extract, unsweetened coconut, organic coconut oil. Can you sense my excitement? The lovely folks at Apotheker's have taken the white, mushy nutritionally-devoid and potentially dangerous Fluff of my childhood and turned it into an actual FOOD. I promptly asked my local City Feed and Supply to carry these delicious nuggets.