Ease into parenthood?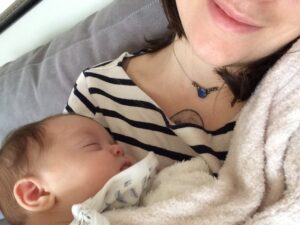 Many parents find the energy and excitement surrounding their pregnancy shifts during the profound postpartum period. Postpartum doulas help facilitate a smooth transition for families in many practical ways. We're especially helpful when a partner goes back to work or if your family is not local to Boston. Whether you need assistance fitting your baby carrier, finding time for a nourishing meal, or getting a few hours to sleep, I can help! I have experience with twins, breast/chest and formula fed babies, pumping and bottles, LGBTQ families, single parents, baby reflux/allergies and elimination diets.
As of 2022, I am limiting my postpartum clients to those whose families are in my closest geographic area. This includes Hyde Park, Dedham, Milton, Roslindale, Mattapan, Dorchester, West Roxbury, Canton and Quincy. You can definitely still reach out if you're bordering these neighborhoods. I may continue to work with birth clients postpartum, even if they live a bit further out. Feel free to check out my resources page for other Boston-area postpartum doulas who I also recommend.
As your postpartum doula, I can provide:
In home daytime, weeknight and weekend care for newborns
Help with older children, light housekeeping
Time for you to rest, take a shower, or eat a nourishing meal
Breast/chestfeeding, pumping or syringe/bottle feeding support
Meal preparation
Help with soothing, swaddling, bathing
Herbal, physical and emotional support
Often, shifts are scheduled in 3-4 hour blocks, a few days per week. As you feel more comfortable with your little one and schedule, we can cut back hours. For example, we could plan on 3 days per week, and move down to 1 or 2 days after a few weeks of postpartum doula care. I provide support up until about 12 weeks postpartum.
Standard postpartum doula fee is $40 per hour. Check out my DoulaMatch profile for updated availability. I do attend 2-3 births per month, and work with a few backup postpartum doulas if you are in need of help on a day that I get called to a birth!
Please contact me at emmaobrien@gmail.com with any questions or requests.