I was recently invited to host an herb walk for the birthday party of a five-year-old budding herbalist. Among learning about medicinal and edible flowers, leaves and roots that grow in her area at this time of year, she requested a few interesting herbal snacks.
Dandelion fritters!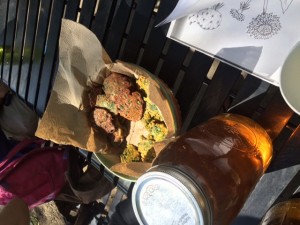 While searching for my dandelions for this recipe, I noticed that most of our bright, yellow neighbors were in between flowering that day. Dandelions continually seed, grow quick, and revisit us all summer long. This led me to pick a bunch of greens (with a few flowering tops) and make more pancake-style fritters for the party.
Approximate recipe:
3-4 cups of wild dandelion greens and flowering tops, rinsed, chopped and dried
3/4 can of low-fat coconut milk (I'm all about fat, but this just mixes better)
1/3 cup chickpea flour
1/3 cup rice flour (brown or white, whichever you prefer)
Curry spices (turmeric, cumin, coriander, fennel, fenugreek) and sea salt
Olive oil
1. Mix the coconut milk with the flours and spices. You should get a thick pancakey batter. If it seems too dry, add a splash more coconut milk. If it seems too wet, add a dash more chickpea flour.
2. Once patted-dry, mix your chopped dandelions into the batter. (It'll look chunky and weird.)
3. Coat the bottom of a frying pan with olive oil, and heat to medium.
4. Test out a mini-fritter (about a tablespoon) to see if your temperature is right.
5. Fry your dandelion batter in batches, each about a 2-3 tablespoon blob.
6. Flip them carefully after three minutes (or when golden brown), and cook an additional 1-2 minutes on the other side.
7. Remove from oil, place on a paper towel to drain and sprinkle with sea salt while still hot.
Parents and kids alike LOVED them! The flavor is more of an Indian restaraunt's pakora without the unhealthy vegetable oil. Wild Green Party food a success!
Perhaps I will share my recipe for lightly honey-sweetened chamomile cookies next…