A few weekends ago, I had the opportunity to teach first year apprentices at the CommonWealth Center for Holistic Herbalism while the school's co-directors, Katja and Ryn, were out in Colorado at the American Herbalist's Guild Symposium.
It was a really fun weekend. Kim from Blue Vervain Farm facilitated children's health, my beloved roommate Gavin taught about men's health from a refreshingly queer perspective, Danielle at Growing Habits helped with our cold  and flu season materia medica and I was able to teach about women's reproductive health from my full-spectrum doula perspective.
I began with giving some background on the fertility cycle. We are born with 4 million follicles. By the time we reach puberty, we have about 40,000, ready to mature one (or two)-at-a-time to be ovulated. Progesterone warms us, many hormones constantly in flux. Nobody's cycle is quite as picture-perfect as the one I had fun drawing as a teaching tool.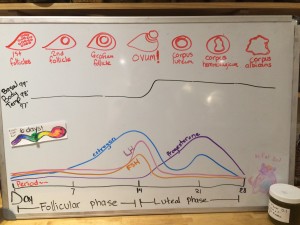 I am grateful for the opportunity to speak about fertility, pregnancy prevention, birth control options, miscarriage, abortion, abortion options, pregnancy in the first, second and third trimester, labor, birth, breastfeeding and postpartum considerations all in one day. (Not to mention the herbs! It is an herb school, afterall…)
It is true that while nearly one third of pregnancies end in miscarriage, it is one of the most silenced fertility experiences. It is true that while one third of women in the US will have an abortion before age 45, cultural stigma hides that "normalcy" from the mainstream. It is true that while the majority people who choose to have an abortion are already parents, our cultural dialogue around fertility states that abortion and birth are two opposites, never to be touched upon in the same sentence, never to be considered within the same lifetime.
As a doula, I have supported women who struggled to conceive for years, after having miscarriages medically managed by D&C procedures. I have supported survivors of violence, who had to terminate pregnancies that resulted from brutal attacks on their bodies. I have supported substance users choosing abortion, queer families choosing gestational parenthood, and single moms bereaving their babies, born still. My practice is full-spectrum.