Join herbalist and birth worker Emma O'Brien for a physically distant (digital!) live plant walk. At lunchtime on Saturday, June 20, Emma will be at the Neponset River in Hyde Park and will walk participants through the many plant allies that also live in our community. Tips for identification, getting to know, ethical growing/harvesting, processing and consuming will be shared. Take screen shots and find herbal friends in the sidewalks of your own neighborhoods.
Class will be offered at a $5-50 sliding scale, with proceeds going to Building Up People Not Prisons, an organization that seeks to significantly decarcerate women in the Commonwealth.
To sign up, email emma@lavandoula.com and you'll receive a Zoom link for the workshop.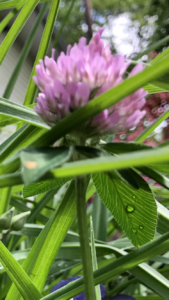 With the spread of novel coronavirus come many questions about personal susceptibility and protective measures people can take. Clinical herbalist Stephen Harrod Buhner, who is well-known in the herbal world for his scientific approach to herbal antivirals and herbal antibiotics, shares this well-cited document about herbal treatments for the coronavirus family of infections. While much is still evolving and unknown about this specific strain of coronavirus, Buhner offers many approaches to support the immune system, lungs and other aspects of the human body that can be impacted by viruses like covid-19.
If you're interested to chat with an herbalist about antiviral and immune-supportive approaches to lessening the impact of the coronavirus, feel free to reach out. I'm dropping off elderberry boneset syrups to clients around Boston this week! Customized herbal support is available in your community (or, we can be safe and meet online).
Comprehensive childbirth education, completely online! Join for live group class with childbirth educator (BACE) and birth doula, Emma O'Brien. Grounded in Boston, MA, these classes will cover a wide range of topics from anatomy and physiology in late pregnancy, to measuring progress in labor, and non-pharmacologic as well as pharmacologic pain management options. No judgment, just evidence based information about your options in childbirth. Contact me at emma@lavandoula.com for more information on signing up!
Herbalism and Herbalists
Local gem Bellx of Semilla of Ixchel offers full-spectrum reproductive support, herbal wisdom and customized preparations, and herbalism apprenticeships for People of Color in greater Boston. Offerings include an herbal CSA, placenta medicine, and workshops about holistic healing.
Muddy River Herbals is the project of Jenny Hauf and her husband Matt. They grow and wildcraft local, organic herbs for folks in the Boston area, and can be found at the Roslindale and Melrose Farmers Markets. Much of the calendula in my postpartum sitz baths comes from these guys!
While not local to the northeast, La Loba Loca is an incredible herbalist and friend who offers consultations, workshops, skillshares, knowledge shares, and seedlingships.
Clair Moore is a clinically trained herbalist and professional private chef who provides medicinal food preparation services around Boston, especially allergen-free foods for folks with autoimmune diseases or chronic illnesses. She and Amanda of The Willow Witch have also teamed up to create Willow Provisions, a medicinal herbal food supper club.
Herbstalk is a growing community of herbal classes in the Boston area. Based in Somerville, this yearly conference brings together folks from many herbal traditions every June.
Founded by Katja Swift and Ryn Midura, the CommonWealth Center for Holistic Herbalism in Brookline offers classes, apprenticeships and a clinic for low-income folks who seek herbal care.
Tammi Sweet at the Heartstone Center for Earth Essentials teaches an AMAZING anatomy & physiology class for holistically-minded folks who would otherwise shy away from a science-heavy class. She frequently offers free webinars on a variety of topics from allergies and asthma to the endocannabinoid system.
Last week, I had the pleasure of making a little video interview with local acupuncturist, Angela Bell. She often works with folks who are trying to conceive (including with IVF and other fertility treatments), as well as during pregnancy and generally focuses her practice on women's health. More about her practice can be found on her Facebook and website.
One thing I so adore about Angela is her desire to connect and highlight others who are birth workers in the Boston area. She holds networking events, and has continued to host a video series on her social media pages for other birth workers to highlight their work. She's chatted with doulas, massage therapists, midwives, yoga instructors, lactation consultants and others about the work we all do with clients.
In our 30 minute interview, we cover what it means to be a "full-spectrum" doula. I talk about why I decided to become a doula, the work I do with the Boston Doula Project, how others doing this work can best support LGBTQ+ families. We also chat about placenta encapsulation, my practice in Western herbal medicine and what it means to be an advocate for folks in all of this work. If you're interested to get to know me a little better, check out this video interview!