Boston Doula Project volunteers are organizing a team for this year's National Network of Abortion Fund's major fundraiser, the bowl-a-thon. Now, although Boston is considered a fairly "liberal" city, and we are home to several bowling alleys (6 or 7 of them?) none have been willing to host this fundraiser event for fear that abortion fundraising is too controversial!
That doesn't stop the activists in our area from getting the work done, though! Boston's "bowl-a-thon" will be hosted at the Milky Way in JP and is a compilation of karaoke singing, pizza eating and games (corn hole, board games??!)
Learn more about getting involved, fundraising, donating, and about the EMA Fund in general, here!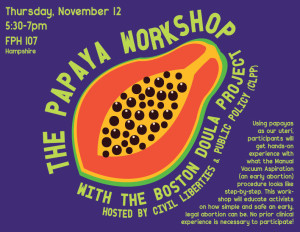 The Civil Liberties and Public Policy program at Hampshire is hosting an amazing lot of Fall 2015 events. One of which is a Papaya Workshop, or "how to use a manual vacuum aspirator using a papaya as a uterine model," with me, from the Boston Doula Project!
I'm lucky to have the week between on-call windows for birth clients, and I will head to the lovely western part of this state to help educate reproductive justice activists on how simple an abortion can be (mechanically). The workshop will be aimed toward those without clinical experience. As an educator of abortion doulas, I know how helpful it can be to see these tools in use before ever coming across them in clinic.
Emerging as the Lena Dunham of the theatre world, 21-year-old playwright Ruby Rae Spiegel — a finalist for the Susan Smith Blackburn prize — writes a brazen, no-holds-barred play about that time in your life when no one else can possibly understand what you're going through. A story about abortion, bad jokes, bathing suits, and friendship, DRY LAND, a New York Times critics' pick, is a brave portrayal of the contemporary American teenager that epitomizes What's Next in American theatre.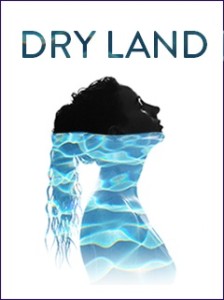 Dry Land is the story of a Florida teenager, who,  when faced with an unplanned pregnancy, struggles to find the care she needs. In a state where a minor would need to access a judicial bypass, or tell their parents what is happening, the protagonist ends up ordering medication from the Internet. The play is intense for some, but I think it paints a fairly realistic picture of what can happen when legal barriers and stigma interrupt reproductive healthcare. This month, I have had the opportunity to participate in community "talk backs" after several productions of Dry Land.
Boston Doula Project was approached to help with planning some aspects of the play, as well as to debrief with audiences around what an abortion doula is, the work we do with BDP and how the protagonist's friend (and the only person aware of what she is going through) acts as her doula.
We chat about many topics, from how to support a friend or partner going through an abortion to how teenagers without sex education are accessing their information about reproductive healthcare. We also get audience input about how the play affected them, how they are interested in our work and that has been a really meaningful part of this partnership for me.
Other community partners can be seen here, and I have had the privilege of speaking with folks from the Peer Health Exchange as well as the Suffolk University Center for Women's Health and Human Rights.
Boston Doula Project Abortion Doula Training
January 10-11, 2015. 9am-5pm.
Interested in becoming an abortion doula? Looking for a way to get volunteer doula experience but frustrated at the lack of organized options in the Boston area? Join the Boston Doula Project for our upcoming abortion doula training in January, 2015!
More information and application are on the BDP website, here. The training will be held in metro Boston (to be determined based on participants' needs with accessibility and childcare) on January 10 and 11 from 9am to 5pm.
I will be at part of the training, teaching about herbal care surrounding abortion with a focus on emotional support, pain management and nourishing aftercare. Come learn how to support folks in your community, de-stigmatize this common experience and volunteer with an amazing set of hard-working, full-spectrum doulas committed to reproductive justice in Boston!