To see what I'm up to this year, look at my new Events tab. Lots of low cost offerings this spring.
I have an upcoming class at the CommonWealth Center for Holistic Herbalism on herbal support after abortion. More about the class and signup can be found here. Class will be Wednesday, April 20th from 7-9pm. Find us at 25 St. Mary's Court in Brookline, MA (accessible off the green line – the school can be found in the alleyway behind the Whole Foods).
While volunteering with the Boston Doula Project, and working around Boston as a birth doula, a significant amount of the stories I hear from clients involve ending wanted pregnancies due to significant health problems, or needing to have a clinical abortion after experiencing an incomplete miscarriage. From ectopic pregnancies that significantly threaten the life and health of the mother, to chromosomal abnormalities that are considered "incompatible with life," the path to abortion and pregnancy loss is rarely simple for anyone.
In this class, I hope to dismantle some of the stigma surrounding abortion and pregnancy loss. I will give an "abortion 101" for everyone, a general background on the available options for ending a pregnancy at various gestational states in the Boston area. We will learn how to know which providers are really providers, and which may be giving out inaccurate health information. Then we will focus on how to support someone you love (or yourself!) when going through this experience.
Herbs can be used to support us emotionally, as well as physically build us back up after blood loss, or help support the body in getting back to a hormonally non-pregnant place. With one in three cis-women experiencing an abortion in her lifetime, this class will definitely touch upon ways to support yourself or somebody you care about.
Herbal Aid for Conscious Conception. CommonWealth Center for Holistic Herbalism in Brookline, MA.
With our culture's strong focus on birth control and avoiding pregnancy, many people are left in the dark when they actually WANT to become pregnant! With the trend toward older ages for first-time parents (especially around Boston), many are wondering how to prepare their bodies best for parenthood. Why does it seem like everybody has babies so easily while others struggle for years, considering invasive fertility treatments? What does it even feel like to ovulate?
Come learn how to lay the groundwork for healthy fertility cycles, nourish your gametes and give yourself the best chance to have a healthy baby with the help of medicinal herbs and foods. This class is taught from the perspective of a birth doula who has years of experience helping parents (of many ages) have babies around Boston, MA.
Wednesday, January 20th, 2016
7:00pm – 9:00pm
25 St. Mary's Court, Brookline
The fee for this class is $20. RSVP at this link.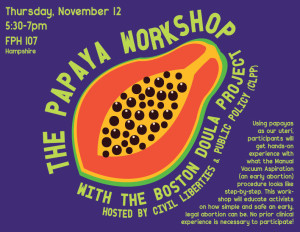 The Civil Liberties and Public Policy program at Hampshire is hosting an amazing lot of Fall 2015 events. One of which is a Papaya Workshop, or "how to use a manual vacuum aspirator using a papaya as a uterine model," with me, from the Boston Doula Project!
I'm lucky to have the week between on-call windows for birth clients, and I will head to the lovely western part of this state to help educate reproductive justice activists on how simple an abortion can be (mechanically). The workshop will be aimed toward those without clinical experience. As an educator of abortion doulas, I know how helpful it can be to see these tools in use before ever coming across them in clinic.